Subminimal NanoFoamer V2 (Black)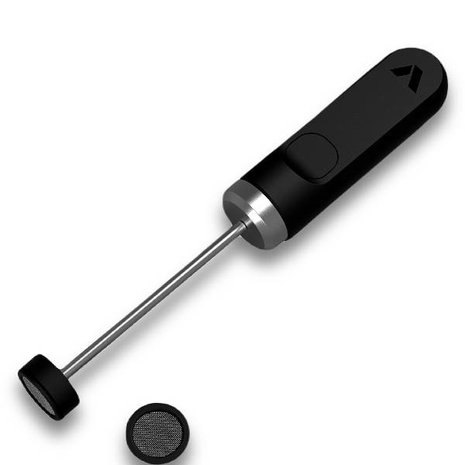 Product description
Subminimal NanoFoamer V2 (Black)
The NanoFoamer V2 is a milk frother that works on two AA batteries. Make perfect microfoam in seconds without using a steam wand. The NanoFoamer V2 has been completely redesigned and is available in two models: NanoFoamer V2 on batteries and the NanoFoamer Lithium has a rechargeable battery
How do I get perfect latte art foam without an espresso machine?
With the Subminimal NanoFoamer V2, you can make microfoam suitable for latte art in seconds. The NanoFoamer is super easy to work with thanks to a unique impeller design that rotates. You can determine the right texture, fine microfoam or thick foam by using one of the two different NanoScreens.
Perfect foamer for versatile use
Do you want café-quality milk foam with your manual espresso maker such as Flair or with a Bialetti? The Subminimal NanoFoamer is the ideal addition for perfect milk foam without an espresso machine. The microfoam is even suitable for latte art. Not only cappuccinos are possible, but it is also widely used for cocktails, chai latte, chocolate milk, etc. Due to its compact size and light weight, you can easily take it with you for good coffee on holiday.
Cleaning the Nanofoamer V2
The shaft, screens and the impeller can be rinsed under the tap. The housing is water resistant, so you don't have to worry.
Improvements NanoFoamer V2 vs Nanofoamer V1
The V2 version has several improvements over the original NanoFoamer V1.
Click-On NanoScreens
The new NanoScreens have a satisfying click attachment that makes them much more secure on the impeller. It also prevents kinking over time.
Replaceable impeller
The impeller can now be replaced if the NanoFoamer makes an unfortunate fall.

Improved material impeller
The impeller material has been upgraded to polycarbonate (still BPA-free and FDA certified), making it more resistant to the stresses of high-speed rotations in hot liquids.
Improved waterproofing
Improved seals on the product and on the shackles and shaft.
Better engine
The improved high speed motor is more powerful, built to tighter tolerances and even more reliable.
Stainless steel housing
The motor housing is now made of brushed stainless steel for a much premium experience and a stronger interior
More stable shaft
Tighter tolerances in the motor directly ensure shaft stability. This reduces vibrations and allows the impeller to rotate quickly
Digital On/Off Switch
The upgraded digital switch is a feather-light on/off switch, so you can focus on the foam while holding the NanoFoamer as light as a pencil.
Safety PCB
Automatic shutdown after 90 seconds to prevent the ultra-fast motor from overheating the housing.
New battery case
The internal design is just as beautiful as the outside, with the batteries fitting directly into the handle and connected with high quality spring loaded contacts.
Reduced vibration
The new internal design is built to much tighter tolerances, keeping everything tight to reduce any vibration from the handle.
Completely new technology
better in-house engineering with sonic welded components rather than click-mounted parts.
Two versions of NanoFoamer
The new NanoFoamer is available in two versions, namely the NanoFoamer V2 and the NanoFoamer Lithium with 3.7 V Li-ion rechargeable battery. View the NanoFoamer Lithium . on this page
Specifications NanoFoamer V2
Batteries: 2x AA (not included)
Single Speed (3k RPM Submerged)
Dimensions: 234 x 35 x 35mm
Weight: 104 grams
Nanoscreens: Fine & Superfine
Impeller: Polycarbonate (Replaceable)
Waterproof: Yes
Includes protective sleeve and wall mount
In the package
- 1x NanoFoamer V2
- 2x NanoScreens
- 1x Protective cap
- 1x Wall holder with adhesive strip
- 1x User manual
- 1x A Certificate of Authenticity
- 1x Access code for the Master Class