Crema - Wheel Sets for Sage Barista Express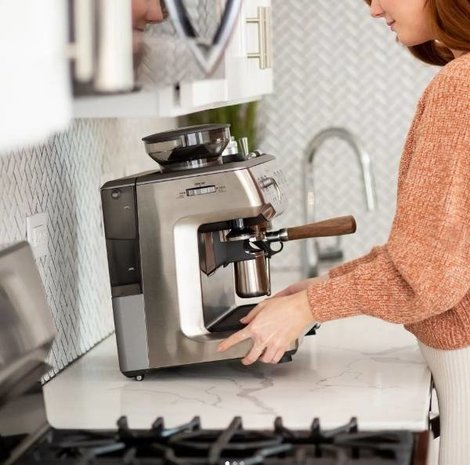 Product description
Wheelset for the Sage Barista Express
Would you like your Sage Barista Express to be easy to move around on your countertops surface without the machine beeping, screeching or bouncing? Crema tools has come up with something for this problem and has designed a direct replacement wheelset. Of course again with a beautiful design as we can expect from Crema. Now you have full control over the location of your Barista Express without fighting the machine or damaging your countertops.
Easily refill water or beans
Thanks to the wheel set you'll improve the workflow and especially with little space it is now easy to reach the water tank, refill beans in the hopper or access the warming tray.
Simply lift the machine at the front, roll the Express where you need it, and roll it back into its house when you're done. And all that without breaking a sweat.
Installation of the Crema wheelset is easy. A direct replacement for the factory feet of the Sage Barista Express.
Who's ready to roll?
Currently only available for Sage Barista Express.
Here you can download the Installation instruction
Reviews
Posted by: Freek on 8 March 2023

Oké, ze zijn wat duur voor wat je krijgt. Maar zodra ze eronder zitten, heb je daar geen moment spijt van. Bij ons staat de machine in een hoek van de keuken, en hik schoof met de rubber pootjes op het gladde aanrecht ook goed...

Oké, ze zijn wat duur voor wat je krijgt. Maar zodra ze eronder zitten, heb je daar geen moment spijt van. Bij ons staat de machine in een hoek van de keuken, en hik schoof met de rubber pootjes op het gladde aanrecht ook goed. Echter zijn deze wieltjes een wereld van verschil, en voelt het veel natuurlijker en steviger dan zonder. Goed product, doet wat het moet doen.

Read more

Read less

Posted by: Richard on 10 February 2023

Net geïnstalleerd op mijn machine. Is het perse nodig? Nee hoor, maar het wel heel makkelijk die wieltjes. Even verplaatsen om wat gemorste boontjes eronder weg te halen, even aanrecht schoonmaken. Het maakt het wel veel gema...

Net geïnstalleerd op mijn machine. Is het perse nodig? Nee hoor, maar het wel heel makkelijk die wieltjes. Even verplaatsen om wat gemorste boontjes eronder weg te halen, even aanrecht schoonmaken. Het maakt het wel veel gemakkelijker. Het ziet er overigens ook gewoon mooi uit.

Read more

Read less
Create your own review