Moccamaster KBGT (Black)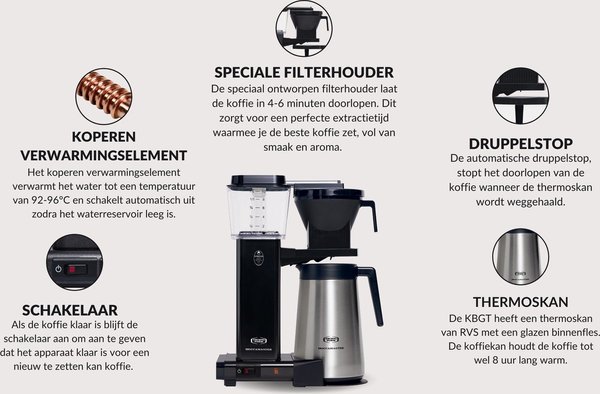 Product description
The Technivorm Moccamaster: well-known and popular among generations of coffee-enthousiasts 
Brew amazing filtercoffee with the Moccamaster KGBT! The Moccamaster brings the brewing water to a perfect temperature between 92°C and 96°C, which preserves and extracts all the beautiful and balanced flavours in every coffee. The brewing water is equally distributed through nine holes, pouring in short pulses. 
Thermal jug
The Moccamaster KBGT includes a stainless steel thermal jug and a glass inner bottle. This keeps a full jug of coffee hot to 80°C for up to 3 hours! After 8 hours, the temperature of the coffee is even 50°C. So whether you work indoors or outdoors, from now on you will always enjoy a hot, tasty cup of coffee. A must-have for the true coffee drinker! Moccamaster's filter coffee machine brews around 1.25L of coffee, allowing you to brew 10 cups of coffee. Ideal for coffee lovers who brew larger quantities of coffee in a day.
Great coffee in no-time
Pour the desired amount of water in the water basin, put your coffee grounds in the filter and just switch the on-button! The coffee you brew ends up in the server through a special blending pipe that makes sure every cup of that brew you serve tastes the same.
Specifications Technivorm Moccamaster KBGT (Black)
- Dimensions: 17x 33 x 41cm (LxHxW)
- Weight: 2,9 kg
- Capacity: 1,25 liters
- Brew temperature between 92°-96°
- Material brewer: Metal and plastic
- Size filterpaper: #4