Pullman - BigStep Tamper for Sage 54,4mm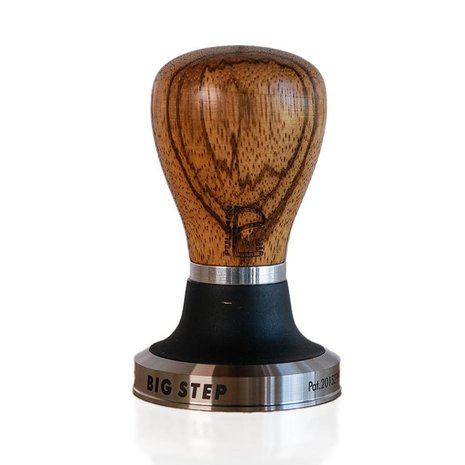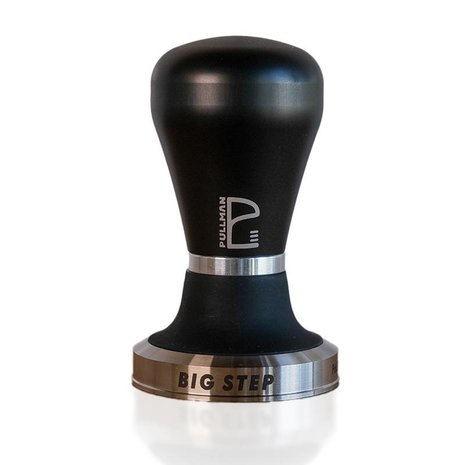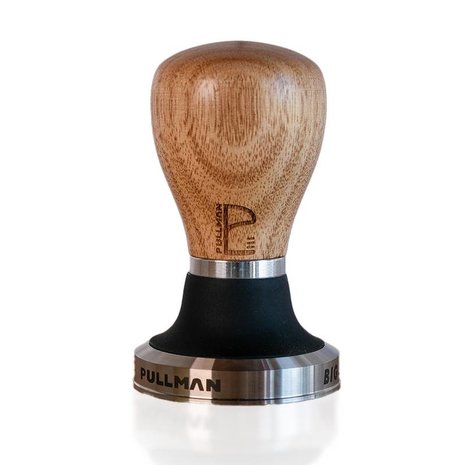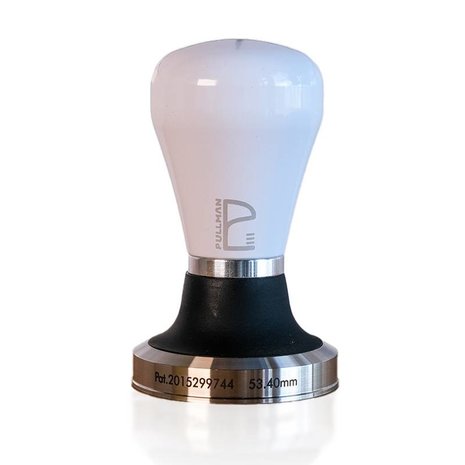 Product description
Pullman BigStep tamper for Sage 54.4 mm
The Pullman's Big Step tamper for Sage has the well-known patented design that fits extremely well with Sage filter baskets. The tamper is designed in such a way that the ground coffee is completely pressed evenly over the entire surface. This prevents channeling and thus increases the total extraction and the ultimate taste experience.
Advantages:
54.4 mm stamper for precision filter baskets
Rubber grip reduces joint tension
Handle rings are included to form a fitting shape
Sturdy 440-stainless steel base
Reduced chance of a broken puck thanks to the beautiful design
Leaves little to no coffee residue
High Quality Sage BigStep Tamper
High-quality materials have been used in the design of this espresso tamper. The tamper feels weighty and balanced. The base of the pestle is dead straight and made of hardened 440 stainless steel. This makes it very strong and will not damage it quickly.
There are several handles to choose from. Go for a powder-coated aluminum handle if you prefer a heavier tamper, or a wooden handle if you want a lighter tamper with a natural look. This means there is variation in weight, but you can also specify this product according to your own wishes.
Ergonomic design
The BigStep for Sage comes with three spacers. These function to adjust the tamper exactly to your finger height and hand size. The rings can be used singly or in combination. They come in sizes 2, 5 and 8 millimeters.
Slightly above the metal base there is a fine rubber ring. This helps absorb some of the pressure on the fingers while tamping the coffee well.
A very exact fit
Pullman Big Step for Sage is a true precision tamper. Due to the very good fit, there is normally the risk of breaking the puck due to suction. Fortunately, this was taken into account during the design. The small rim around the base creates an airflow as the pusher is retracted. This prevents a vacuum and keeps the coffee cake free of cracks.
You feel the difference
While you are tamping the coffee there will be little slack. There is not really the possibility to move the BigStep tamper back and forth in the filter basket. This indicates how exactly the tamper size is designed to fit, ensuring the best results
Specifications
Manufacturer: Pullmann
Model: Big Step Tamper for Sage 54.4 mm
Height: 9.2 cm (adjustable with included rings)
Diameter: 54.4mm
Style: Flat, edge-to-edge tamp
Weight: 244 - 255 g
Materials: 440 stainless steel, rubber, aluminum and polyoxymethylene.
Pros
Weight and balance
Craftsmanship
Tool for Sage
Patented
Close fitting to the Sage 54mm filter baskets
Complete densification
Reduced channeling
Increased extraction
Supplied as standard
The Pullman Big Step Tamper for Sage
3 handle rings of 2, 5 and 8 millimeters