Felicita Incline Drip Scale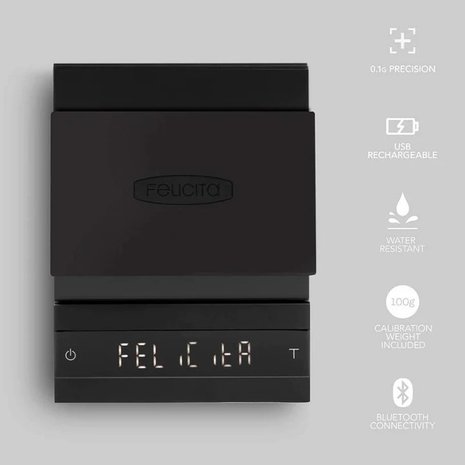 Product description
Felicita Incline Drip Scale
Built with a stylish & durable quality aluminum body, the Felicita Incline Drip scale is ready to help you extract the perfect filter coffee. It's minimalistic design is a delight to work with, yet the scale provides enough space to fit every server or brewing method. The scale has a simple display, but provides you enough options to analyse your brew.
Quality built 
The Incline Drip Scale has a strong aluminium body and is waterproof, incredibly fast and very accurate. The scale has a capacity of 2000 grams with 0.1 g increments.
User-friendly functions
This drip scale by Felicita is very user-friendly with it's simple design. It's standard mode enables you to keep track of time and weight, but the scale has auto-timer and auto-tare functions as well. For those who aspire to save and analyse different recipes there is the Felicita-app which can be connected to the scale. The app allows you to keep track of flow-rate and different recipes. Be aware: The Felicita-app currently only works on iOs devices. 
Specifications:
- Weight: 295 g
- Dimensions: 13 x 16 x 2,6 cm
- Color: Black
- Material: Aluminium
- Waterproof: Yes
- 2000g Capacity in 0.1g Increments
- Bluetooth connectivity with Felicita App
- Lithium-ion USB rechargeable