Ethiopia - Nano Challa (Washed)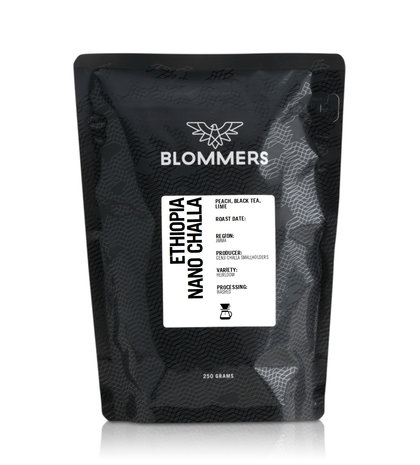 Product description
Ethiopia - Nano Challa (Washed)
It's time for some fresh deliciousness! We think there is nothing better than a fresh and beautiful washed Ethiopia! This coffee comes from the high mountains of this very green and beautiful Agaro area. Agaro is located within the better known Jimma region. The cherries for this coffee are collected from the 500 participating farmers from the Genji Challa Smallholders collective.   
Floral, fruity and smooth
The cherries are harvested and hand sorted by the small holders to make sure the best cherries are delivered to the washing station. The washing station is located at a very high altitude which causes slow maturation of the cherries and less damage from insects. The result is a high-quality coffee with a very intense flavour profile.
The beauty of this coffee lies in the perfect reflection of the origin. It is delicate, complex and gentle. Expect soft florals, stone fruits and great acidity. We roast this coffee towards his ultimate potential of sweetness and fruitiness.
Product specifications
Article number

ET-1020-0.25-F

Origin

Ethiopia

Region

Jimma

Washing Station

Agaro

Producer

Genji Challa Smallholders

Variety

Heirloom

Processing

Washed

Altitude

1930m

Harvest

November-January

Flavour Notes

Peach, Black Tea, Lime