Costa Rica - El Alumbre (Anaerobic Honey)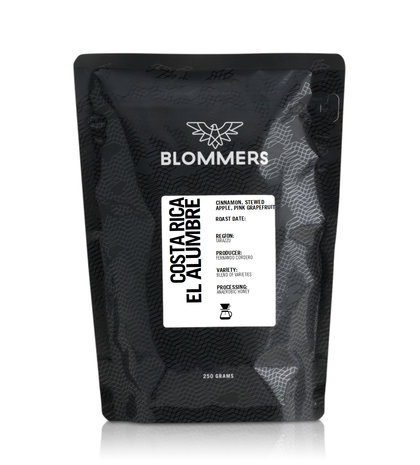 Product description
Costa Rica - El Alumbre (Anaerobic Honey)
It's time for another process driven coffee! This time it comes from the volcanic western valley of Costa Rica, Tarrazu, and is produced by Fernando Cordero. His farm is named El Alumbre de Tarrazu and is about 10 hectares
Special processings never come without a risk, but Fernando had some good guidance by Luis Campos who owns the micro mill Cordillera Del Fuego. At Cordillera Del Fuego, all the tools you need for special coffee preparations are there. Every year this micro mill represents about 25 microlots per year. This time including this amazing coffee from Fernando. 
Anaerobic Honey
This coffee is processed as an anaerobic fermented honey. In this case the coffee cherries are blended with the remaining coffee pulp from other fully washed coffees (mucilage) and then fermented without oxygen. After the fermentation period the coffee is further processed as natural on patios.  
The result is a very flavour dense and fruity coffee with a surprising cinnamon-like finish.
Product specifications
Origin

Costa Rica

Region

Tarrazzu

Washing Station

Cordillera Del Fuego

Farm

El Alumbre de Tarrazzu

Producer

Fernando Cordero

Variety

Blend of Varieties

Processing

Anaerobic Honey

Altitude

1700m

Harvest

June-March

Flavour Notes

Cinnamon, Apple Cidre, Pink Grapefruit